Shiny Stats
Shiny Stats brings Attributes, Stats, Classes, Level & Experience and more into your game!

Easy to use and flexible, Shiny Stats helps you to create a lot of games from Tower Defense to complex RPG games with 0 line of code.

Shiny Stats is 100% configurable using its own user-friendly editor window and can integrate seamlessly with your existing project using a very simple C# API.
Features
Attributes to characterize your characters
Classes, sets of attributes, for high reusability
A Level system
Stats to be calculated against the level or not
Define your stats values manually by level or using a math formula
A complete Experience system to use with levels
Easy to setup and to integrate
Shiny Stats Window to configure your game (stats, attributes, etc..)
Shiny Stats Entity Script to be attached to your characters
Support
Online Documentation
Documented Source Code
Demo included to get started quickly
Use cases in the website, reproducing real game examples
Support all platforms
Overview
Play and review the Shiny Stats demo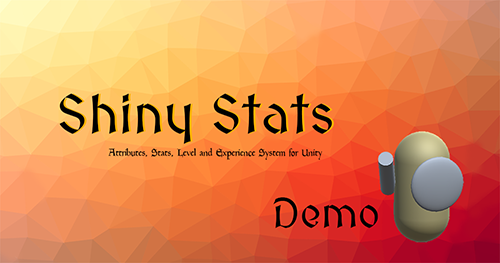 Shiny Stats setup in 3 minutes
Create a New Scene
Create a GameObject ShinyStats
Add ShinyStats script to the ShinyStats GameObject
Open Shiny Stats Window
Create an Attack Power Stat
Setup Attack Power stat
Create a GameObject Player
Add ShinyStatsEntity script to the Player GameObject
It's over!
Review Attack power value in the ShinyStatsEntity inspector with current entity level: Review Attack power chart in ShinyStats window:
See more in the Manual section.
Code Example
Get Strength attribute value
Evaluate the Attack power stat value
Add experience points
Use the math expression engine
See more in the Manual section.
Screenshots
Get Shiny Stats